NRS 429V Week 2 Discussion 1 NEW
NRS 429V Week 2 Discussion 1 NEW
NRS 429V Week 2 Discussion 1 NEW
According to the assigned article, "Health Disparity and Structural Violence: How Fear Undermines Health Among Immigrants at Risk for Diabetes," narratives tell the story of the interconnectedness between fear and health. Thematically, the issue of fear is a dominant feature that affects how an individual approaches day-to-day living and health. Explain the relationship between fear and health identified by the researchers in the article. Do you agree that structural violence perpetuates health disparity?
Topic 2 DQ 1 OLD
Description:
What is a definition of family that encompasses the different family structures prevalent today? Discuss the importance of acknowledging nontraditional family structures. Explain how family systems theory can be used to better understand the interactions of a modern family (traditional or nontraditional).
Replies to Marise Guillaume Charles
Hello Class,
The Institute of Medicine has described family for end-of-life care as persons linked by marriage, bloodline, intimate friendships, partnerships, and companionships, along with other people that patients would want to have as part of their care team (Jazieh et al., 2018). The latter definition captures a person's end-of-life care and the proper manner to include the numerous family configurations.
Nurses must recognize the nontraditional family structure because understanding what constitutes a "family" for a specific societal unit aids in the family's intervention and health promotion assessment (Jabbari and Rouster, 2021). Every family's constitution should be uniquely taken into account. As a result, the health promotion plan should be adapted to each individual's family structure for the data to be received and processed correctly, resulting in a shift in healthy behavior throughout the whole family unit.
According to Bowen's family systems theory, every individual or family unit system or subsystem influences other system components (Erdem and Safi, 2018). Because studying a family member in isolation is difficult, they may be better understood by comprehending or watching the family's emotions and complexities. Individuals seek their acceptance, attention, and assistance and respond to their upsets, wishes, and ambitions. The family unit's collaboration becomes reliant as a result of the responsiveness. It was supposed that a system that arose over a billion years ago oversees human-connected networks. People have a diverse cultural, linguistic, and psychological makeup.
On the other hand, individuals continue to do all that other living forms do. Most human actions are influenced by the emotional system, which is also the fundamental driving factor behind physical problems. Understanding how to manage a dynamic system inside one's career, family, and social networks reveals more effective solutions for dealing with challenges in these areas.
References
Erdem, G., & Safi, O. A. (2018). The cultural lens approach to Bowen family systems theory: Contributions of family change theory. Journal of Family Theory & Review, 10(2), 469-483. https://onlinelibrary.wiley.com/doi/abs/10.1111/jftr.12258
Jabbari, B., & Rouster, A. S. (2021). Family Dynamics. StatPearls [Internet]. https://www.ncbi.nlm.nih.gov/books/NBK560487/
Jazieh, A. R., Volker, S., & Taher, S. (2018). Involving the family in patient care: A culturally tailored communication model. Global Journal on Quality and Safety in Healthcare, 1(2), 33-37. https://meridian.allenpress.com/innovationsjournals-JQSH/article/1/2/33/434802/Involving-the-Family-in-Patient-Care-A-Culturally
Morgan
In today's world, family is defined by the term "family of choice," according to Sue Green (2018). Green (2018) describes family of choice as, "people chosen by an individual to care, love, and trust rather than the family of origin," as well as "people who are together out of friendship and love, not bloodlines." Animals are also considered members of the family in the present-day. The people patients refer to as "family," bloodline or not, are the ones who are going to support and care for the patient the most. It is imperative that nurses assess and identify family dynamics early on, so that they can promote family health, thereby improving the patients' overall health. Green (2018) mentions that, "the health of the family influences the health of the individual." As nurses familiarize themselves with the various family structures out there, it will allow them to better care for and serve the patients' needs and desires.
The family system's theory is a "classic approach to studying family processes and problems" (Green, 2018). According to Katherine Rosenbusch (2010), family systems are "considered open systems in that the individual members and the unit can be influenced by internal and external environments," and are "adaptive because they meet the demands of the changes that impact the group." For example, a father of a family—who is the primary provider—has a heart attack and is hospitalized for a long time, this adds stress to and can drastically affect the family dynamics. To me, I consider the family system's theory to be somewhat of a "domino effect" because when one thing happens something else follows suit.
References
Green, S. (2018). Understanding Families and Health Promotion. CCC Web Books by AWS & CDD. https://lc.gcumedia.com/nrs429vn/health-promotion-health-and-wellness-across-the-continuum/v1.1/
Rosenbusch, K. (2010). Cross -cultural adjustment process of expatriate families in a multinational organization: A family system theory perspective. https://search.proquest.com/openview/66dbad586fca9c3d6bf3a3fa39cb7f59/1.pdf?pq-origsite=gscholar&cbl=18750&diss=y
Response
This is an insightful response Morgan. I concur with your post. The structure of families is consistently changing and diversifying. Health is associated with multifactorial causation and the family can affect health of a person in numerous ways. Therefore, the changing dynamic of family structure can greatly influence risk and protective factors that impacts health (Kaakinen et al., 2018). Family members are likely to share risk factor health that may emanate from several socio characteristics of their communal society, neighborhood, culture, community, and housing. Family members also share positive aspects that promote good health. Family is also exposed to the same health-related lifestyle and dietary behaviors. Moreover, the family also share financial resources in managing poor-health and health care cost including the protection enjoyed by the availability of financial resources in relation to health issues. As such, it is imperative for health care system to consider the changing the dynamics of families and recognize them in patient health care delivery to improve outcomes.
References
Kaakinen, J. R., Coehlo, D. P., Steele, R., & Robinson, M. (2018). Family health care nursing: Theory, practice, and research. FA Davis.
Robin
The definition of family is something that is ever changing and evolving as society has started to break free from societal norms.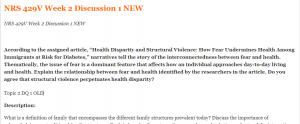 Urban dictionary defines family as "a group of people, usually of the same blood (but do not have to be), who genuinely love, trust, care about, and look out for each other". I found this definition to be the most accurate because it addresses all different types of family structures. It is important as care givers that we acknowledge nontraditional family structures. I believe family is a subjective term, meaning that the family unit includes what the person says it does, even if we do not view family as such. I compare this to pain; it is what the patient says it is regardless what we may think. With this being said it is important that we keep an open mind and never just assume anything. If someone is important to a patient they in turn should become important to us and included in patient care and teaching.
"This theory is based on the idea that the family is interconnected by individual members, and the actions of one family member affect all members of the family. The individuals create a system in which environment, behaviors, and reactions influence values and morals." (Grand Canyon University, 2018). A shift within the family system happens with the emergence of new participants and environmental experiences. One of the main points of the family systems theory is that the action of one person can affect all other members of the family because they are all interconnected. In order to understand an individuals behavior we must study the family as a whole . It doesn't matter if the family unit is what we might perceive as traditional or not, the family systems theory can be applied.
References
Grand Canyon University (Ed). (2018). Health promotion: Health & wellness across the continuum. Retrieved from https://lc.gcumedia.com/nrs429vn/health-promotion-health-and-wellness-across-the-continuum/v1.1/
Urban Dictionary: family. (2019). Urban Dictionary. https://www.urbandictionary.com/define.php?term=family
Response
This is an impressive response Robin and I agree with the post. The continuing global changes have resulted in significant changes in the family structure. These changes create pressure in structural stability and functional and evolution of families, which in turn causes changes in the wellness and patterns of health in the family life cycle. However, the current health care system does not give the changing family dynamics attention that it deserves. Therefore, there is need to approach these changes through public policy and dedicate more studies in this area (Ortiz et al., 2017). Consequently, the state, health care system, and family organizations and patterns should work on formulating welfare policies that considers the changing dynamics of family structure and its influence on health care. Health care providers should also consider the current dynamics in family structure and address the family as a unit in an integrative approach by considering patient's family as a whole based on the preferences of the patient.
References
Ortiz, Y. M. B., Suárez-Villa, M., & Expósito, M. Y. (2017). Importance and Recognition of the Family in Health Care: A Reflection for Nursing. Nurse Care Open Acces J, 3(5), 00084.
Ronald
According to the ebook Health Promotion: Health & Wellness Across the Continuum, family is described as "a complex, diverse, and dynamic societal unit often consisting of parents and children related by legal, genetic, or emotional ties." (Green, 2018). A family can be considered as relatives in blood or by marriage, friends who care about you, especially pets who can be there to comfort you the most when no one else can
It is important to acknowledge nontraditional family structures because as a nurse, we need to be able to include the family members in promoting health and wellness, and encourage to support the client in any way possible to improve patient outcome. The family is affected in every single way possible when we provide care to their love ones, so acknowledging the family members in providing care will improve patient outcome.
According to the family systems theory, a member of a family has to change its behaviors and influence everyone in the family to follow along and change to promote health and wellness. An example is a family member with a history of obesity decides to loose weight and creates a diet plan and exercise regimen and encourages the rest of the family to join him in the journey of loosing weight.
References
Grand Canyon University (Ed). (2018). Health promotion: Health & wellness across the continuum. Retrieved from https://lc.gcumedia.com/nrs429vn/health-promotion-health-and-wellness-across-the-continuum/v1.1/
Response
Thank you for this outstanding response Ronald. The post is indeed succinct and I agree with you. Non-traditional family units are increasingly gaining prominence. As such, there is need to research on their functional and structural aspects in health care system. Nurses have traditionally created models and frameworks of family-based care. This development is attributed to the vital role nurses play in family care as both system and in individual member of the family. Therefore, in the face of the global changes in the family structure, nurses should accommodate these changes and continue to focus on enhancing the health of new family structures. Essentially, the changes in the family structure will continue to manifest and so, the important thing that nurses and other health care providers should have is high degree of awareness of the changing structures and that these changes must be accommodated along the way to enhance the health outcomes of families by working on inclusive measures that are consistent with the family needs (Ortiz et al., 2017).
References
Ortiz, Y. M. B., Suárez-Villa, M., & Expósito, M. Y. (2017). Importance and Recognition of the Family in Health Care: A Reflection for Nursing. Nurse Care Open Acces J, 3(5), 00084.
PLACE THIS ORDER OR A SIMILAR ORDER WITH SUPERIOR NURSING PAPERS TODAY AND GET AN AMAZING DISCOUNT